The Secret to Vagabonding Through Life
I'm not some phony fuck who went on two vacations to Iceland tellin you how to experience the world of backpacking. No. I'm proud to say I was kicked outa my parent's house when I was fourteen and have been hitchhiking the world ever since.
Actually, now I live in a place I no longer like to leave, so I stopped vagabonding… after all, I'm 37. Fuck do I wanna pick up and leave my lovely life for now?
But before all that, vagabonding was the search for true freedom at all costs. I even broke the Guinness World Record for Longest Journey by Car in a Single Country with my ex-girlfriend. That's a humble brag right there. But point is, I've had some fucked up experiences in many bizarre places with unstable people. I'm proud to report on all of it with you, right here, right now.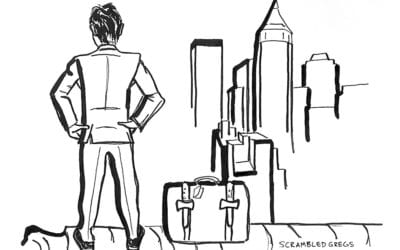 I've moved to many different cities and the first thing I do is head to the cafe. That's my starting point. There's no right way for how to meet people in a new city, but you can increase the odds of getting off to a non-lonely start. The cafe as a starting point...