So the Aussie who nearly killed me in my sleep from part one of this story, he tells me one day that if you eat twelve carrots you get a disease called Carotitus (or some shit) and you turn orange.
I told him that was the dumbest thing I ever heard.
He told me he knew what he was talkin about.
I told him he was drunk.
He said, I'm sober. YOU'RE drunk.
He mighta been right.
So we make a bet:
Aright, if this idiotic disease actually exists, then I'll eat twelve carrots and get Carotitus, which doesn't exist–
–MATE!  EET DUZ!–
–But if I win, and this disease does not even come close to existing, then YOU have to eat twelve carrots and we'll see if you turn orange.
eets uh bet mate.
Good.
Anyway, he heads out of the hostel to some place with somebody and I start frantically googling Carotitus from the common area of the hostel… NOTHING COMES UP… oh wait.
I was spelling it wrong.
Keratitis.  SHIT.  It DOES exist!
LOOK: https://en.m.wikipedia.org/wiki/Keratitis
Well, I come up with an idea to ensure i don't lose this bet… shit i don't wanna get fuckin Keratitis… shit sounds terrible… So I make up my OWN wikipedia page that says this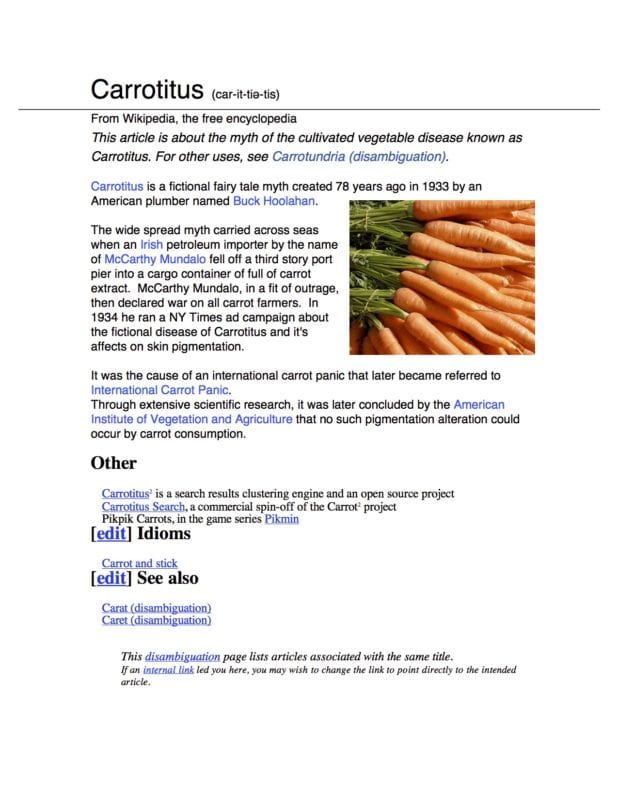 HAHAHAHAHAHAHHAHAHAHAHAHA  Look at the PIC OF CARROTS I USED!!!! lol.
Then I printed it out and posted it with scotch tape to the front door of the hostel and called the Aussie and said
Dude.  Come back to the hostel, I got a surprise for ya….
And so the revenge begins…
Stay tuned… until then, download part 1 of my book series…